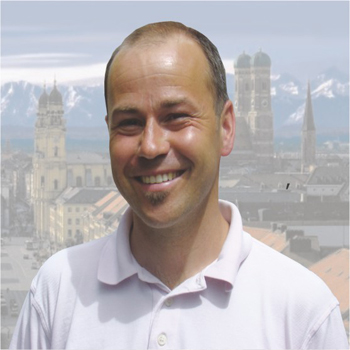 Interview: Ralf Zednik – Deputy Director of Sales & Marketing, Munich Tourist Office, September 2008
How long have you been the Deputy Director of Sales and Marketing and what is your role and responsibility at the Munich Tourist Office?
I began working for the Munich Tourist Office in 1997 and I have been Deputy Director of Sales and Marketing since 2003. I am responsible for the Asia and Australia/New Zealand markets.
Why is 2008 so special for Munich and especially for the Oktoberfest?
Munich celebrates its 850th birthday and 175th Oktoberfest in 2008. Many festivals, parties and concerts will be held throughout the entire summer.
When will Oktoberfest take place this year and are there any additional celebrations planned given that this would be the 175th Oktoberfest?
Oktoberfest will begin on September 20 and end on October 5. There is a rule about the Oktoberfest which makes it easy to calculate & when it takes place – the last day of the Oktoberfest is always the first Sunday in October.
The original & Oktoberfest took place on October 12, 1810 beginning with a horse race in commemoration of the wedding of Bavaria's Crown Prince Ludwig and Princess Therese of Saxe-Hildburghausen. Since its beginnings, the Oktoberfest has been cancelled 24 times due to war, disease and other emergencies. Accordingly this will be the 175th Oktoberfest. The city of Munich will be organizing a horse race to honour the origins of this event. There will also be a variety of different programmes, a wide range of entertainment-businesses and of course, the traditional food and beer in the big festival halls. In 2010 we will celebrate 200 years of Oktoberfest.
How much in advance is it advisable to book for the Oktoberfest?
Due to the great demand it is necessary to make bookings at least 6 months in advance for the festival halls and at least one year in advance for hotel rooms.
How many varieties of beer can one find in Munich and Bavaria?
There are endless varieties of beer in Munich and Bavaria. Weissbier (wheat beer), Dunkles (dark lager), Helles (pale, malty lager), Bock (a very strong, very full-bodied lager) and Märzen (medium body, malty lager) are just a few. Every type of beer however is brewed in strict adherence to the "beer purity law" dating from 1516, according to which the only allowed ingredients of Bavarian beer are water, hops and barley-malt.
Tell us about the Biergartens (beer gardens). Where did they originate and which are the most popular Biergartens in Munich?
Beer gardens are a symbol of Munich's zest for life. The shady chestnut trees – an integral part of a beer garden – originally served to cool down the beer as Bavarian Brewing Regulations did not allow beer to be brewed during the summer. This made it necessary to store large quantities of winter beer in a cool place.
An obvious solution to storing the beer was also to consume it on the spot. Following protests by the landlords however, King Ludwig I prohibited the provision of food at the gardens. The people of Munich thus brought everything they needed along with them, from radishes to tablecloths – an excellent custom, which has continued till present day.
Munich's beer garden season lasts from spring to autumn for as long as the warm weather permits. The 29 traditional beer gardens and the innumerable other outdoor areas serving drinks offer 180000 guests a seat in the open-air. Two of the largest beer gardens are the Hirschgarten with 8500 seats and the Augustiner in the Arnulfstrasse with 5000 seats.
Munich is one of the most popular tourist attractions in Germany. What are the various places that one can visit in and around Munich?
Munich offers a variety of treasures to the traveller. Highlights include the City Centre with the New Town Hall, the Cathedral, the food market (Viktualienmarkt), the Olympic Park with the Olympic Tower and the newly built automobile delivery centre – BMW Welt. There are also famous museums like Deutsches Museum (the largest technical museum in the world) and the Three Pinakotheks (painting galleries with masterpieces from the 14th century up to the 19th century as well as modern and contemporary art). The palaces of Munich include Residenz Palace, Nymphenburg Palace and Schleissheim Palace. The surrounding area has picturesque lakes and mountains with the Alps just around the corner. The fairy tale castles of King Ludwig II – Neuschwanstein, Linderhof and Herrenchiemsee are also a sight to behold.
Which destinations are worthwhile for day trips from Munich and what is special about each of these places?
Day trips from Munich are a smart option. Within 1 to 2 hours by car or train many attractive destinations can be experienced. Salzburg in Austria is 1.5 hours by train and is the birthplace of Mozart, as well as being home to famous baroque architecture and UNESCO World heritage. Innsbruck and Swarovski Crystal World, also in Austria, is 1.5 hours by train and is located in a broad valley between high mountains. Zugspitze is one hour by train and is Germany's highest mountain with cable cars and a cog railway to the summit. King Ludwig's Castles are 1 to 2 hours by car and one of Germany's most popular tourist attractions. Dachau is a Concentration Camp Memorial and is within Munich's public transport system. There are many more attractions such as Legoland – a theme park – and Oberammergau and Murnau – both traditional Bavarian villages.
Which is the best time to visit Munich?
Anytime is the best time to visit Munich. But to experience the splendour and uniqueness of each season, you should visit Munich at least 4 times a year. The winter season hosts the Christmas markets, the winter sales and skiing in the nearby Alps. Spring is when the beer gardens open and the flowers blossom in the city. Summer is the festive season with the open-air concerts and festivals throughout the city. Bathing in the river Isar and the lakes in and around Munich is an added bonus of the season. The autumn season brings the Oktoberfest, the colourful "Indian summer", fresh local vegetables and fruits and fantastic hiking opportunities in the Alps.
Ideally, what is the minimum length of stay in Munich recommended to experience true Bavarian hospitality?
I would recommend staying at least 4 days in Munich – two days to explore the city and two more days to discover the surrounding Bavarian region. Evenings can be spent enjoying the rich nightlife of Munich. Bavaria receives a record 100 million tourists annually including 20% from international travel.
What is the future strategy of the Munich Tourist Office to encourage more international visitors to Munich especially from the Asia Pacific region?
With almost 50% of overnight stays being from international travel and more than 9.5 million overnight stays in total, Munich is by far the most important tourism destination in Bavaria, and among Europe's top ten destinations. In close cooperation with Munich Airport and other partners, we are strengthening our marketing activities in the Asia Pacific region as we see massive potential in these markets. And with Europe's best airport, we have the perfect access.
Our seven representatives cover Asia from the Gulf region (Dubai), along India (New Delhi), Thailand (Bangkok), Singapore and China (Beijing, Hong Kong) to Korea (Seoul). Our main focus is to raise awareness of Munich and to place our city in the catalogues of the tour operators. Munich is a safe, friendly and "green" city. It is easy to get around and offers an excellent choice of accommodation and activities.
The Munich Tourist Office provides professional services such as hotel reservations, call centres, tourist information, city guides in 25 different languages, an online sales guide (www.muenchen.de/salesguide) and a great variety of brochures.
With Lufthansa and Austrian offering connections to Munich and the possibility of Indian carriers coming to Munich as well, do you foresee a growth in Indian tourist traffic to Munich?
The Indian market has shown strong growth in tourism to Munich since we established an office in New Delhi. In 2007 we recorded an increase of 26.9 % in overnight stays in the city and in the first half of 2008 we saw an increase of 12.3%. With more direct flight connections between India and Munich, we estimate further strong development in the Indian tourist market. This is just the beginning.
Indians love shopping and food. Which are the must-visit places you would recommend for shopaholics and lovers of cuisine both Bavarian and Indian?
Shopping in Munich is easy and efficient. The entire city centre is one big shopping area with department stores in the pedestrian area, souvenir shopping around the Marienplatz, luxury shopping with all the major brands in the Maximilianstrasse and some specialists like the former Purveyors to the Bavarian Court and Munich brands like Escada, Bogner, Aigner, all within walking distance.
"Eating and drinking keeps body and soul together." In Munich people still adhere to this old Bavarian proverb. What surprises visitors to Munich is the extremely diverse culinary structure. Beside traditional Bavarian restaurants like the famous Hofbräuhaus, many vegetarian and Indian restaurants can be found throughout the city.
As a Bavarian, what have been your interesting experiences about Munich as well as your association with the Bayern Munich Football Club?
I am definitely a "Munich child." I was born and raised in Munich. I still live in the area between Munich and the Alps – an area which, as far as I am concerned, represents the highest level of living.
I am a member of FC Bayern Munich, the most successful German football club. I have the opportunity to travel around the world and promote one of its greatest cities. I also get to meet and become friends with people from different cultures and communities.
As football is an international craze and one of the most famous clubs is based in Bavaria, tell us about the Bayern Munich club and the famous football icons of Munich and Bavaria.
Thank you for asking me about FC Bayern Munich (FCB). As a football maniac, FCB is much more than just a football club to me. With our new football temple – the Allianz Arena built for the World Cup 2006 – Munich is the football centre of Germany. You can buy your FC Bayern Munich jerseys in one of the FC Bayern Megastores. You can even attend a guided football tour and visit the training ground to get a glimpse of your favourite football stars.
Besides Oktoberfest and football, what are the other famous icons of Munich and Bavaria?
Munich is economically the strongest city in Germany and home to BMW, Siemens, Allianz and MAN, as well as the European headquarters of McDonald's and Microsoft. Munich tempts with contrasting treats – from Opera to Oktoberfest. Modern yet traditional, it has an almost Mediterranean charm. Visitors feel at once welcome and safe. The city is regularly voted as the place where most Germans would like to live.
You have visited India. What according to you are the challenges you face to get more Indian visitors coming into Munich?
Our biggest challenge is that Munich is not a well known destination from an Indian perspective. London, Paris and Switzerland are all established tourist destinations in Europe. We are constantly developing plans to make people more aware of Munich. Due to our small budget however, not all of these ideas can be realized.
The perfect way to promote Munich to an Indian audience would be to stage a Bollywood movie in Munich, complete with Indian superstars and great music. The perfect title would be "Falling in love in Munich!"
Unfortunately we have to set our goals on a slightly lower scale. Besides our continuous focus on public relations, we strive to make the time tourists spend in our city an unforgettable experience and count on the visitors to spread the word to friends and family.
Lastly, what is your message to the readers and why would a visit to Munich be a great experience for people of all ages?
Munich loves you – you will feel this throughout every experience of our town, no matter whether your visit lasts for a few hours or a few weeks.