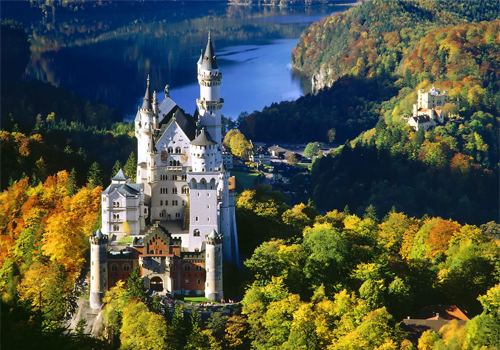 Duration: 9N/10D
Location: 2N Koblenz/1N Cologne/1N Wurzburg/1N Rothenburg ob der tauber/1N Nuremburg/2N Munich/1N Heidelburg
Available Seat: 10 numbers
Price: On Request
Book Now
Rhine and Bavaria Rail Circle Tour

09 Nights / 10 Days

2N Koblenz/1N Cologne/1N Wurzburg/1N Rothenburg ob der tauber/1N Nuremburg/2N Munich/1N Heidelburg
ITINERARY
DAY 01: Koblenz (B)
Arrive at Frankfurt airport. Train ride to Koblenz. Free time in Koblenz for visiting the city on your own. Located in midst the picturesque landscapes of Rhine and Mosel and surrounded by four low mountain ranges, the Historic Highlights City of Koblenz is known as the "Gateway to the Romantic Rhine. Koblenz's abundance of cultural monuments and historical buildings, the cozy little lanes and alleyways, and the relaxed and happy atmosphere of its squares and river promenades make Koblenz a charming town where its guests feel right at home.
Overnight stay at Hotel Kramer in Koblenz.
DAY 02: Koblenz – Trier (B)
Breakfast at the hotel. Transfer to Trier by train. Free time for sightseeing in Trier.
Trier is Germany's oldest city. It began as a metropolis of the Roman Empire and enjoyed prosperous medieval and Renaissance eras as well. Founded in 16 B.C. under Emperor Augustus, Trier expanded as an imperial residence and capital of the Western Roman Empire. The ancient city's most famous relic is the Porta Nigra, the beautifully-preserved fortified gate from the great age when the city was known as Augusta Treverorum. Today Trier contains the largest collection of ancient Roman buildings outside of Rome itself, all concentrated in a centralized and pedestrian-friendly area. Visitors can gaze in wonder at the size and majesty of the Basilika, used in the early 4th century by Emperor Constantine as an audience hall and throne room, and housing the largest unsupported room of antiquity. They can explore the expansive ruins of the Imperial Baths, remodeled during the 4th century as a barracks for more than 1,000 soldiers. And in the Amphitheater, they can sit in the same terraced seats occupied by fans cheering for gladiator and animal fights some 2,000 years ago. While the stunning ancient architecture is the city's strongest draw, travelers should also take in buildings like the baroque St. Paulin's Church and the Church of our Lady, Germany's oldest Gothic church. Behind the medieval façades of the Cathedral, architectural styles from the 4th through 18th centuries can be seen. Trier's expansive Electoral Palace, built as a "wing" to the Basilika, is considered one of the finest examples of Rococo style in Germany, and its Baroque Palace Gardens are a peaceful green oasis in the middle of the city. Another popular attraction is the Karl Marx Haus birthplace and museum. Perhaps one of Trier's most charming areas is its former Cathedral City, a mostly intact medieval district. A warren of narrow alleys runs between medieval houses in this former city-within-a-city.
Transfer to Koblenz.
Overnight stay at Hotel Kramer in Koblenz.
DAY 03: Koblenz – Cologne (B)
Transfer to Cologne by train. Breakfast at the hotel. Free time for sightseeing in Cologne. 1 hour Cologne Panorama cruise in Cologne.
Cologne looks back at over two thousand years of history, and there is something "historical" to see at almost every corner. During your one hour Panorama Cruise on the Rhine River you will see many sights of Cologne. Cologne is also the "city of churches", in no other German city are so many churches within the realms of the old city wall. Then there is the Rathaus (townhall), built around 1330, and some towers and parts of the old city wall are still to be seen. Take a day to explore this truly interesting city and enjoy modern life surrounded by history's influence.
Overnight stay at Hotel in Cologne.
DAY 04: Cologne – Wurzburg (B)
Transfer by train to Wurzburg. Sightseeing of Princebishops' Palace, Marienberg with Roundchurch, Alte Mainbruecke, Juliusspital in Wurzburg.
The city is idyllically located amidst vineyards, with the mediaeval fortress Marienberg towering above. Würzburg is old bishop´s see and lively town, proudly presenting monuments of different eras. Culture, art, history and hospitality are ever-present in this remarkable city!
The Fortress Marienberg, Würzburg´s landmark, has of course changed its appearance a great deal since it was first mentioned, today the oldest part of the fortress is the "Rundkirche" (round church) which was built in the year one thousand. Please note that Marienberg Fortress and the Rundkirche are closed on Mondays and from November to March 15th.
The Cathedral, the Marienkapelle, the "Alte Mainbrücke" (old bridge across the river Main ), the Juliusspital and the "Käppele" are musts, but make sure that you do not miss out on the "Fürstbischöfliche Residenz" (Prince bishops residence ).
Overnight Stay at the Hotel Wurzburger Hof in Wurzburg.
DAY 05: Wurzburg – Rothenburg ob der tauber (B)
Transfer by train to Rothenburg ob der tauber. Sightseeing of own wall with Spitalbastei Gate, Gothic St. James Church, Ploenlein square, Christmas museum, crime museum in Rothenburg ob der tauber.
Rothenburg ob der Tauber was once a powerful free imperial town and its monuments, landmarks and buildings still bear witness to these days.
Marvel at the half-timbered buildings and at town walls which are withstanding time since hundreds of years, protecting the city since the Middle Ages. Visit the town's most famous spot, the Ploenlein square, probably the most photographed place in Rothenburg. Also very interesting to see is the Spitalbastei Gate, created by Leonhard Weidmann, the latin inscription on the gate reading: " Peace to those who enter, health to those who leave".
The Gothic St.James church is the town's most prominent church, here you can take a minute and relax in quietness while you enjoy the beauty of the famous Altar of the Holy Blood and the Twelve Apostles Altar. Every step you take in this old town is a step thru history with yet another beautiful spot to be discovered around the corner.
Rothenburg also offers museums which are cultural highlights, such as the Christmas Museum with an exhibition showing Christmas tradition in Germany, the Doll and Toy Museum where the history of playthings is shown, as well as the Crime Museum, where the visitor gets an insight into the law and especially its execution during the last 700 years.
In the evening you will join an English-speaking tour with the Night-Watchman.
Overnight Stay at Hotel Spitzweg in Rothenburg ob der tauber.
DAY 06: Rothenburg – Nuremburg (B)
Transfer to Nuremburg by train. Sightseeing of historic old town, Imperial Castle and Castle Garden.
The city's history reaches back to the year 1050, its name "nourenberc" translating into "rocky hill". Nuremberg's famous landmark, the "Kaiserburg" (Imperial Castle), towers above the Old town, which is protected by the five kilometers long city wall with its many towers.
When exploring the beauty of Nuremberg's mediaeval Old Town one can start at the Koenigstor ("Kingsgate"), from where the timber framed buildings, the Gothic Church of St.Lawrence and the Church of St.Sebaldus can be easily reached by foot.
Right next to the Koenigstor is the Handwerkerhof (craft center), here you will feel like you are back in the mediaeval times, there are craft workshops like they used to have a long time ago as well as a gingerbread bakery.
Overnight stay at Hotel Victoria in Nuremburg.
DAY 07: Nuremburg – Munich (B)
Transfer to Munich by train. Free time for sightseeing in Munich with your all-day pass and your admission package.
Munich, famous throughout the world, is the Bavarian metropolis, close to the Alps and in the heart of Europe. Where to begin when one wants to name places to see and things to do in this extraordinary city which like few others combines modern life with lively history.
There is Munich's old town where 850 years of history are showing off, there is the Marienplatz (Marien square) where 3 times each day thousands of people are spell bound when the world famous Glockenspiel (carillon) starts it's beautiful song Visit and marvel at the Frauenkirche, the town's landmark, do not miss the Hofbräuhaus and find out why the Münchner (inhabitants of Munich) don't want to miss out on their "Brotzeit" (a meal or snack consisting of bread, cold cut, cheese and so on, usually enjoyed between breakfast and lunch).
Overnight stay at the King's Hotel in Munich.
DAY 08: Munich (B)
Escorted all day Coach tour to the Royal Castles Linderhof Palace and Neuschwanstein Castle. Shopping stop in Oberammergau.
This all day escorted coach tour will first take you to Oberammergau for a photo stop. Here the famous Oberammergau Passion Play take place every ten years. The next time it takes place is in 2020.
The tour will then continue to Linderhof Palace, the "Royal Villa" of Ludwig II. Visit this beautiful furnished castle with the Hall of Mirrors and visit the beautiful palace park laid out from 1870 to 1880.
The picture of Neuschwanstein Castle is probably present in everybody's mind but certainly for those traveling along the Romantic Road. Be prepared that reality will surpass all pictures and imaginations:
Neuschwanstein seems to be taken out of a fairy tale!
Seeing the Castle from the outside is unforgettable, a tour of the insight, which was originally built for the one famous inhabitant, will make the picture perfect! But make sure to take some time to explore the castle grounds, the view of Neuschwanstein from the bridge behind it is like none other!
Overnight stay at the King's Hotel in Munich.
DAY 09: Munich – Heidelburg
Transfer to Heidelburg by train. Transfer to hotel Hollander Hof in Heidelburg by taxi.
Sightseeing of historic old town and Heidelburg Castle.
Heidelberg, with its idyllic location on the river Neckar, the beautiful Heidelberger Schloss (castle) towering above. Heidelberg, both historic and young, will capture you with its easygoing charm, will remain unforgettable for those who stood in the castles gardens, overlooking the town and the river, will make you feel history while roaming thru cobbled alleys.
Overnight stay at the Hotel Hollander Hof in Heidelburg.
Day 10: Heidelburg – Frankfurt airport
The airport shuttle bus will take you from your hotel in Heidelberg directly to Frankfurt International Airport where your tour ends.
INCLUSIONS:
3* / 4* / 5*Accommodation as per itinerary (subject to availability) at the time of booking or similar.
Includes 8 Breakfasts, meals as per itinerary (B= breakfast, L= lunch, D= dinner).
Entrance Fees & Sightseeing as per itinerary
One hour Panorama Rhine cruise
Entrance to :
Wurzburg Residenz and Court Garden
Marienberg Fortress and Princes' Building
Imperial Castle and Castle Garden
Residence Museum, Treasury
Cuvilliés-Theatre
Hall of Fame and Statue of Bavaria
Nymphenburg Palace and Park
Marstallmuseum and Museum of Nymphenburg Porcelain
Linderhof Palace & Park
Castle Neuschwanstein
Transfers:
Speed rail from Frankfurt airport to Koblenz
Speed rail from Koblenz to Trier and vice versa
Speed rail from Koblenz to Cologne
High-speed rail from Cologne to Wuerzburg
Unrestricted rail ticket from Wurzburg to Rothenburg ob der tauder
Unrestricted train ticket from Rothenburg ob der tauder to Nuremberg
High-speed rail ticket from Nuremberg to Munich
Unrestricted rail ticket from Munich to Heidelberg
Taxi transfer from Heidelberg main station to hotel in Heidelberg
Heidelberg to Frankfurt airport
Sightseeing highlights:
Koblenz old town
Tier Cathedral city
Princebishops' Palace
Munich Castles
Imperial Castle and Castle Garden
Marstallmuseum and Museum of Nymphenburg Porcelain
Hall of Fame and Statue of Bavaria
COST: On Request
EXCLUSIONS:
All flights, excess baggage fees, airport departure taxes and other relevant taxes.
All meals and drinks not specified in inclusions.
Porterage at airport and hotels.
Items of a personal nature (i.e. internet, curio, laundry, beverages, etc.) unless specifically quoted for above.
Tips and gratuities.
Visa fees.
Optional Tours.
Anything not specifically quoted in the inclusions.
NOTES:
Rates are subject to availability and to further terms and conditions.
All prices are correct at the time of printing. Compact travels reserves the right to alter the published price of any tour due to increasing tariffs, costs and entry fees or fluctuation of exchange rates, such amounts shall be determined at the sole discretion of Compact Travels.
No reservations have been made and accommodation is subject to availability. In case of non-availability, alternate accommodation will be recommended.
All outdoor activities are weather permitting.
Smoking is not allowed in the vehicles. Comfort stops will be made en route.
All distances and travelling times are approximate.
Peak Season Surcharge may be applicable during Xmas, New Year or during any special events.
Compact Travels Terms & Conditions Apply.
Note: Effective 1st July 2012, Service tax will be applicable on all currencies (payable in INR).
All Payments to be made in INR,USD or EUR as per rate of exchange at the time of booking.
Any payments automatically mean adherence to the terms & conditions of Compact Travels.
Departure is guaranteed with a minimum of 02 participants. The operation of the tour can only be guaranteed by the end of the cancellation deadline, which is 60 days prior to departure.
The transfers on arrival and departure day are included in the roundtrip rate from 02 persons on; in case 01 pax arrives/departs separately, surcharges for extra transfers will apply.