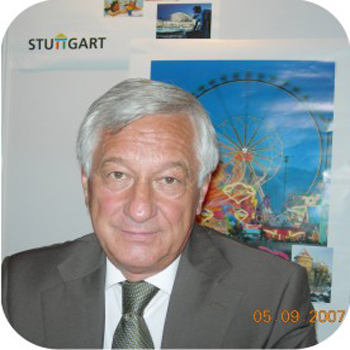 Interview: Hans Jorg Hadbawnik – Regional Director, Stuttgart Marketing (Russia and India), February 2008
What is there for the leisure traveller to see in and around the Stuttgart region?
Stuttgart is known for the world famous automobile Mercedes Benz and many people from India have the wrong perception that Stuttgart is an industrial city. In fact, it isn't.
Although the city has a big factory of Mercedes Benz, it is primarily assembling the cars. Stuttgart region has a wonderful landscape and there is lots to offer in terms of history, culture, wine tours including wine tasting and visit to wine museum and we have the Neckar river going through the city of Stuttgart. Stuttgart is also famous for its cuisine as we have a very high density of restaurants in the city including more than 10 Indian restaurants.
As Stuttgart is perceived to be a destination for business, how do you plan attracting leisure travellers?
We can combine business travel with leisure travel and once the business is over and done, families can join in for 3 or 4 days to explore the region in and around Stuttgart. That would be our primary objective. A minimum of 3 nights is highly recommended and we have excellent connections to Stuttgart International airport which has 65 international airlines that fly into the city from 32 different countries. Although there are no direct flights from India, there are convenient connections into Stuttgart from Mumbai and/or Delhi via major European cities including Frankfurt, Munich, Vienna, Milan as well as Copenhagen to name a few of them. Stuttgart is located in the middle of Frankfurt and Munich and hence from any of these cities one can reach Stuttgart within 2 hours by road or 90 minutes by train. This February we are celebrating the 40th anniversary between the sister cities Mumbai and Stuttgart and we are planning major celebrations for the twinning arrangement between the two cities by organizing events in Mumbai during the first week of February.
How many people from India visit Germany every year?
In 2006, we had 18000 people from India visiting Germany. After Frankfurt and Munich, Stuttgart is the next most important destination for Indian travellers and we expect the number of visitors from India to Stuttgart increasing in the current year especially as we are celebrating 40 years of the twinning arrangements between the cities. The good thing about the city is that it is a year round destination as we have mild winters and pleasant summers. Black Forest is just one hour drive from Stuttgart and the route is very picturesque indeed. Even Lake Constance is two hours drive from Stuttgart. Hence, it is ideal to combine a few places in and around the region. Within an hour's drive from Stuttgart you are in France and in 30 minutes you can be in Switzerland or Austria so it is convenient to visit Stuttgart as well as neighbouring countries, most of which require the common Schengen visa. Stuttgart has year round events which can be easily combined by visits to the museums including the Mercedes Benz Museum which is a must visit for lovers of automobile. Then there are wine festivals, beer festivals and we also have Christmas Markets. Hence, we see a great potential and increase in visitors in the current year to Stuttgart.
From which places does Stuttgart receive lot of visitors?
Our major tourist traffic currently is from Switzerland, Austria, U.K., USA and the people visiting from India and Russia is on the rise.
Indian visitors generally prefer Indian food or vegetarian options. How do you plan addressing this situation?
As mentioned earlier, we currently have more than ten Indian restaurants as Indian food is popular amongst Germans as well. Besides, many German restaurants also serve vegetarian food, so choice of cuisine shouldn't be a problem for the Indian visitor.
What has your experience been especially visiting India?
Although this is my first trip to Mumbai, I have been to Delhi in the past and as I see more of your country, I seem to enjoy it. I quite liked Delhi, Rajasthan and I am highly impressed with the response from Mumbai.
Which are your preferred places you travel to when you want to get out of Stuttgart?
Black Forest is definitely one place worth visiting. The region around Stuttgart has many castles which are worth a visit. There are several day trips to regions around Stuttgart that one can do not only within Germany but also include visits to neighbouring countries especially France, Switzerland and Austria.